THE GBA CLASS PROFILE
Students in the online Master of Global Business Administration (GBA) form a diverse community that transcends borders of geography, academic background, and career trajectory. They are united by a shared calling: a commitment to making a lasting impact on the world stage.
The following class profile reflects our current GBA student body.1
OVERVIEW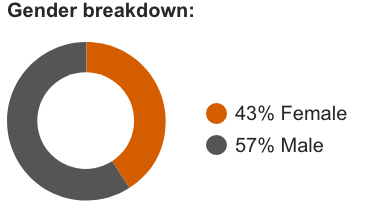 The graphs show the percentage breakdown of gender and employment sectors for the current GBA student body. Gender breakdown is shown to be 43% female and 57% male. Employment breakdown is as follows: 41% private company; 25% public company; 17% nonprofit; 6% international/multilateral organizations; 12% other.
LANGUAGES SPOKEN
Languages in which students are fluent or advanced:
Afrikaans
Amharic
Arabic
Cantonese
Chinese (Putonghua)
Czech
Dutch
English
French
Georgian
German
Hebrew
Hindi
Irish
Italian
Japanese
Kinyarwanda
Korean
Latin
Malayalam
Mandarin
Marathi
Norwegian
Persian
Portuguese
Russian
Spanish
Swahili
Swedish
Tagalog
Tibetan
Turkish
Twi
Yoruba
LOCATIONS
GBA students are currently living in seven countries—Belgium, China, Kenya, Saudi Arabia, Singapore, the United Kingdom, and the United States—as well as 27 U.S. states. Students also conduct their studies while traveling widely for professional and personal reasons.
U.S. States:
AZ
CA
CO
CT
DC
FL
GA
IL
MA
MD
ME
MN
ND
NE
NH
NJ
NY
OH
OR
PA
RI
SC
TX
UT
VA
WA
WI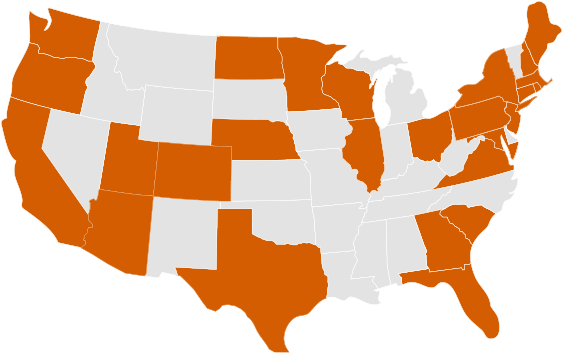 WORK EXPERIENCE
Students come to Fletcher with backgrounds across many sectors and industries, from areas such as government, consulting, finance, defense, and technology. The GBA learning experience is greatly enhanced by this diverse mix of experiences, fostering an open exchange of ideas.
Average work experience:
A sampling of employers of GBA students:
Abbot Downing
Barclays Bank New York
Dell EMC
Federal Bureau of Investigation
Gartner
GlaxoSmithKline
Global Risk Advisors
J.P. Morgan
Partners in Food Solutions
Peace Corps
Pegasystems
Permanent Mission to the United Nations
United States Army
United States Navy
Viacom International Media Networks
Positions held by GBA students:
Analyst
Army Finance Officer
Business Owner
Chief Executive Officer
Chief Operating Officer
Chief Sustainability Officer
Chief Technology Officer
Director, International Business Development
Director, International
Tax Strategy
Director, Marketing
Executive Director
Intelligence Officer
Managing Director
Political Adviser
Senior Vice President
Surface Warfare Officer
Vice President, Procurement and Logistics
1 The self-reported information above reflects enrolled online students as of September 2020.