Apply now for spring 2024 and receive an $85 application fee waiver.
DEVELOP MBA SKILLS IN A GLOBAL CONTEXT TO ADVANCE YOUR CAREER
Gain the foundational and international perspectives to make positive social, strategic, and economic impacts in a complex global environment.
No GRE/GMAT Required
We value diverse perspectives, professional experience, and real-world knowledge.
16- and 24-Month Tracks Available
Full-time and part-time track options along with varied class times allow you to balance work, life, and studies.
Ranked #6 in the World
The Fletcher School's international relations master's degree programs are ranked #6 in the world by Foreign Policy Magazine. 1
Join a Network of Alumni
Fletcher boasts a truly worldwide network, with alumni who live and work in more than 135 countries across the globe.
Two Immersion Experiences
The Online Master of Global Business Administration program gives you the opportunity to learn through on-campus and international immersions.
DISCOVER WHAT'S POSSIBLE WITH THE FLETCHER SCHOOL
The Online Master of Global Business Administration from The Fletcher School at Tufts University program equips international business professionals to understand—from a global perspective—the legal, social, political, and economic factors that impact today's business and business practices. You'll attend live classes taught by The Fletcher School's world-class faculty, who are Fortune 500 advisers, public authors, chief economists, and retired law firm partners.
Highly interactive, multimedia online classes
Two hands-on immersions, on campus and abroad
Powerful alumni network of CEOs, political leaders, and investors
The Fletcher School provides a multidisciplinary curriculum that covers international business, economics, law, and policy. You'll gain key business skills, core MBA competencies, and the contextual intelligence to thrive in your career. No matter what field of business you're interested in pursuing, you'll stand out in the crowded field of MBA graduates by being innovative and impactful when leading across borders.
DEADLINES
SPRING 2024
Early Review
October 2, 2023
Priority Submit
October 23, 2023
Final Submit
November 13, 2023
Start of Classes
January 8, 2024
IMMERSION EXPERIENCES
The Online Master of Global Business Administration program includes two in-person immersions.
The on-campus immersion at Tufts University's scenic hilltop campus in Boston serves as a kickoff to the required capstone, a real-life "lab" project that allows you to build a team, tackle a problem, and manage a complex project.
The international immersion location offers you the opportunity to witness the complexities of international business firsthand, while building connections with your cohort and getting to know The Fletcher School network.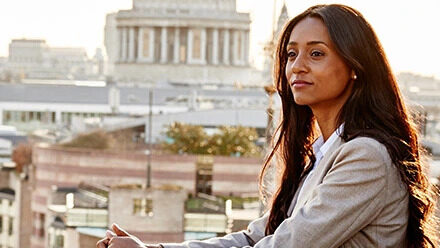 ACCREDITATION
Tufts University is accredited by the New England Commission of Higher Education (NECHE).
1Foreign Policy Magazine, 2018